Check back on the beginning of the Project City Center photos here. See the newest update here. The city within a city is beginning to show foundation…lots of it. I was out cruising the heat filled streets when I decided to veer offinto the employee parking area off of the Strip onto Harmon. The entry was open but I was stopped immediately by a female security guard. A green plastic something or other covers all the chain link fence around the construction area and it's impossible to tell what's on the other side of it. But once through the gate, it was easy to tell I wasn't supposed to be there. While she was throwing up her arms, I was already rolling down the window and showing her my employee ID. I just wheeled in and turned around and headed for Monte Carlo Drive – that would take me back to Frank Sinatra Blvd. and the employee parking garage.
Thankfully, the employee parking garage allows vehicles to9 feet and also has an area on the bottom floor for oversize vehicles. I made it to floor 6 before I decided to stop and do a photo shoot of the development of City Center. Perhaps there are other floors open above but the top floor is still under construction. This is what I saw – left to right:
The building straight ahead is The Aladdin (blue base). To the left is the Jockey Club and Bellagio. And the street in view is Harmon, coming from the South side across the freeway.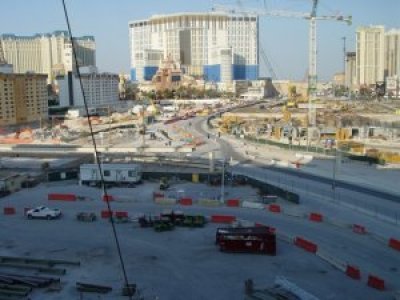 The buildings behind the cranes are some of the high rise condos that are being built in Vegas (I believe that's what they are anyway) and they are 'off Strip' construction.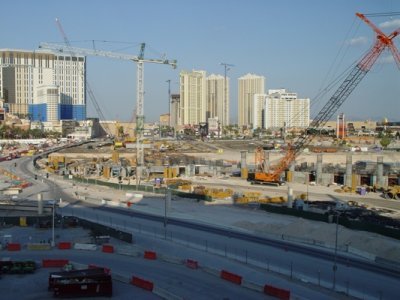 This picture makes me think of dancing cranes or perhaps they are sparring with each other. MGM is in the background – blue/green.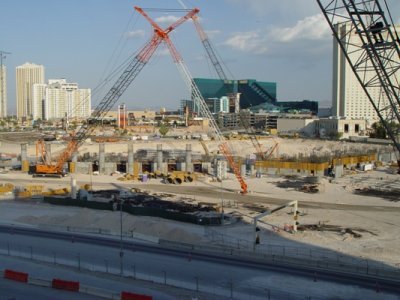 The Monte Carlo is on the far right.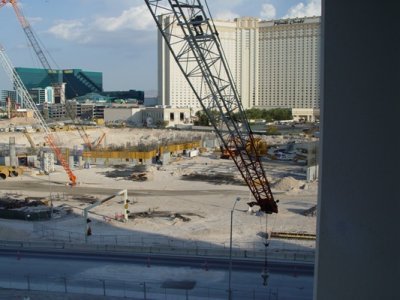 This is all that's left of the Boardwalk Casino, the parking garage and it's ready to tumble soon.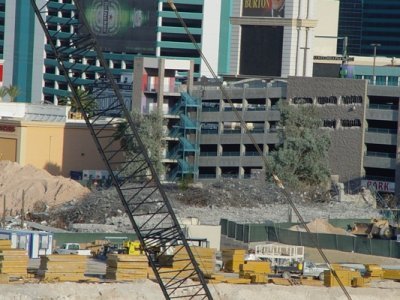 Frank Sinatra Blvd. is on the far right, Hamon is immediately below my feet, the gold buildings in the distance are Mandalay Bay.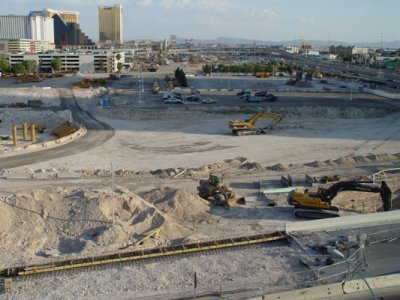 This is a close-up of how the foundation begins, and on the other side of it is where I used to park the Silver Steed and walk down the Strip to work.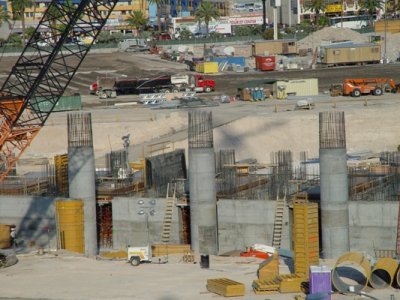 It's all pretty damned amazing – watching a city grow should be on everyone's priority list. If any of you want larger pictures, send me an email (geenen 'at' pokerworks.com), they are very high resolution, and there are a lot more than what's up here. And just think, I may 'See you there'.